Mitsubishi's Adirondack Heat Pumps with Hyper Heat is a revolutionary home heating system. Hyper Heat is a heat pump system with the addition of a proprietary Inverter technology that enables it to keep its efficiency at -13 degrees Fahrenheit.
It is more efficient (SEER Rating) while heating at -13 degrees Fahrenheit, and it also has the energy star rating. If you live in a location where very low temperatures are typical, the FH hyper-heat technology from Mitsubishi is likely a suitable choice.
Mitsubishi Electric has announced Hyper-Heating INVERTER® (H2i) technology, which represents a major advancement in heat pumps. H2i's improved compressor mechanism allows it to provide heat even when ambient temperatures reach -13 degrees Fahrenheit. Hot-Start technology gives instantaneous warmth.
Savings & Comfort
Up to $4,500 in Electric Utility Rebates
Through New York state utility providers on qualifying, energy-efficient Mitsubishi Electric heating and cooling systems.
Learn how the Inflation Reduction Act can offer you money for Cold-Climate heat pumps from Mitsubishi!
The Inflation Reduction Act of 2022
Learn how it can help you in having us install a new renewable energy heating & air conditioning system!
The Inflation Reduction Act of 2022 is a landmark United States federal law which aims to curb inflation by reducing the deficit, lowering prescription drug prices, and investing into domestic energy production while promoting clean energy.
Adirondack Heat Pumps offers Perfect Comfort To -13 DEGREES!
Enter the new Hyper Heat system from Mitsubishi. Using a unique phase-changing liquid and what they term Inverter technology, Hyper Heat can continue to extract heat from the surrounding environment until the temperature falls below -10 degrees Celsius. The easiest way to visualize this is as an ice cream scoop with an integrated heat exchange liquid.
Due to the phase-changing liquid in the handle – a kind of "anti-freeze" – the scoop may stay warm enough to readily cut through rock-hard ice cream. The same mechanism enables Mitsubishi's super heat system to continue extracting heat from the air and warming your house at temperatures considerably below the point when other heat pumps simply stop working.
Hyper Heat activates when the compressor motor receives a signal requesting a burst of heat. The motor revs up to its maximum speed and the mechanism redirects the increased heat generated by the compressor magnets back to the blower, supercharging your heat output and allowing it to react swiftly to the falling outside temperature.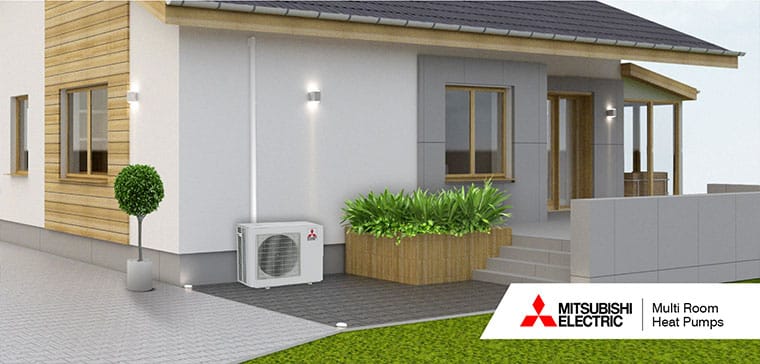 Cooling and heating for year-round comfort, single room/zone. Select from 9K – 36K Btu's system capacities. Wall mounted Mitsubishi ductless indoor units.
EXTREME COLD IS NO MATCH FOR H2i from Adirondack Heat Pumps
Our heat pumps are the only ones with Hyper-Heating INVERTER® (H2i) technology, which represents a substantial development in heat pump technology. Even at -13 degrees Fahrenheit outside, our heat pumps can keep you warm inside.
Heat pumps have always been effective, but until recently they were unable to deliver the necessary heating performance in frigid areas. With Mitsubishi Electric Hyper-Heating INVERTER® (H2i) technology, our heat pumps can now deliver remarkable heating performance and efficiency even when the temperature outside at -13 degrees Fahrenheit.
Hyper-Heating INVERTER
Bringing year-round comfort solutions to extreme climates.
Exclusive to Mitsubishi Electric, Hyper-Heating INVERTER (H2iTM) technology is offered in certain Mr. Slim® Split-ductless and CITY MULTi® VRFZ models. The success of our INVERTER heat pump systems for cooling and heating is well recognized. However, we did not stop there. We chose to further redefine the heat pump.
Imagine being delightfully warm inside while at -13 degrees Fahrenheit outdoors or achieving full heating capability at 5 degrees Fahrenheit outside ambient. Now, open your eyes and see the outside H2i units. H2i provides an abundance of heat.
With our INVERTER-driven heat pump systems, you can maintain the optimal degree of comfort while conserving energy. Now, with the use of breakthrough H2i technology, you can enjoy year-round comfort with a single system, even on the coldest days. This distinctive Mitsubishi technology arrives at a time when fuel expenses and energy consumption are at an all-time high.
• Exceptional heating performance, even at 5˚ F outdoor
• Tremendous heating operation at -13˚ F outdoor
• Extended comfort performance, longer interval
between defrost time provides more than four
hours of heating in one continuous cycle
On start up a special circuit assures that normally dormant refrigerant quickly enters the air-conditioning cycle. This process rapidly increases the mass flow rate in the system, which quickly provides comfortable discharge temperatures from the indoor units.
Even at -13˚ F outdoor temperature the H2i system can provide 100˚ F discharge air temperature from the indoor unit. And at 5˚ F outdoor temperature and above, the discharge temperature reaches an impressive 110˚ F with a 40˚ F temperature rise.
What does that mean? A comfortable climate in all of the zones in a home or office, whether heating or cooling, no matter the season.
Unlike typical fixed-speed or staged heat pumps, the INVERTER-driven compressor in the H2i outdoor unit adjusts its speed to precisely match the load requirements within each zone. The use of the INVERTER-driven compresssor allows for constant comfort all year long, year after year.
INVERTER Technology
Precise rotation speed control provides comfortable, consistent room temperature.
High rotation speed provides fast cooling and heating.
Low rotation speed keeps starting current low, which means less energy consumed.
Conventional Technology
Has uncomfortable temperature fluctuation.
Requires a long time to reach desired temperature.
Need heavy energy usage every time compressor turns on.
Other Hyper-Heat Features from Adirondack Heat Pumps
Have you ever driven in the cold without allowing your vehicle to warm up? Then you are aware of the advantages of rapid hot-start.
Mitsubishi's super heat systems give instantaneous hot air to a space without requiring the system to warm up beforehand. Once you switch on your ductless unit, it instantly begins heating the space.
All ductless systems work on inverter technology. And like all heat pumps that use inverters, they deliver the precise amount of heat/cool air you need for your particular need.
But ductless systems go one step farther since they are "zoned" separately. A system that is zoned is responsible for heating or cooling a particular region. Once the desired temperature is reached, the zone deactivates, therefore conserving energy.
Due to the fact that each interior unit analyzes the surroundings independently, ductless systems provide unrivaled zoning options. Once it determines how much heat/cold is required to fulfill the temperature requirements of a zone, the outside compressor (using inverter technology) provides the precise amount of heat/cold that zone requires.
With ductless systems, you do not utilize the furnace or heat pump to heat or cool the whole home. Your mini-split reads each room independently, producing just the correct amount of heat and using precisely the appropriate amount of electricity.
Comparing Hyper-Heat to the Competition
What makes Hyper-Heating H2I® so much better than anything else?
Mitsubishi's Hyper-Heating H2i®, offered by Adirondack Heat Pumps, is intended to tolerate harsh circumstances and climates, when most conventional heat pumps are not. However, Mitsubishi is not the only company to enter the severe cold market.
When the temperature falls below 40 degrees Fahrenheit, the hyper-heating H2i® compressor motor from Mitsubishi indicates the need for a burst of heat. Depending on the temperature, the motor revs higher to absorb the excess heat generated by the compressor magnets. Once the excess heat has been absorbed, it is sent to the rear of the blower.
This procedure increases your heat production. This is how the hyper-heating H2i® inverter compressor from Mitsubishi matches the required heat and swiftly adapts to the falling outside temperature.
Also, using Mitsubishi's "flash injection" bypass circuit, the issue of falling refrigerant levels at sub-zero temperatures is avoided. Flash injection enhances the circulation of refrigerant between interior and outdoor units.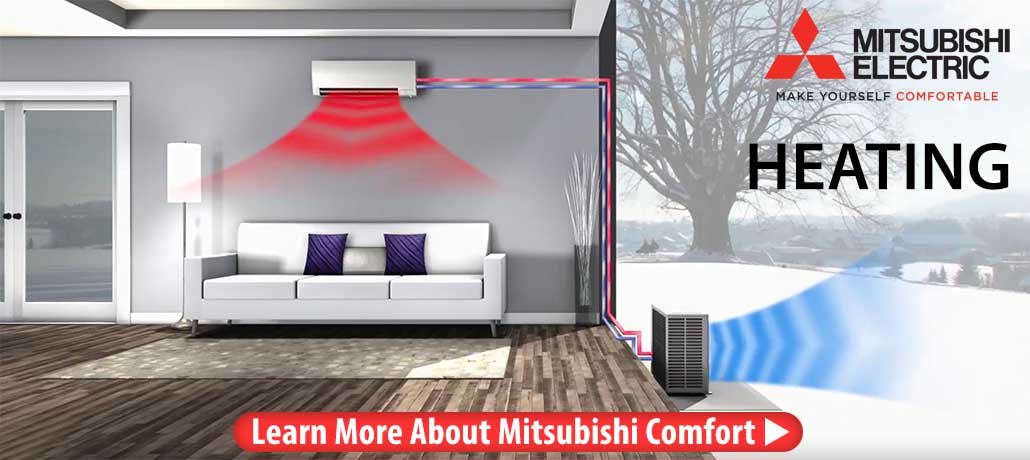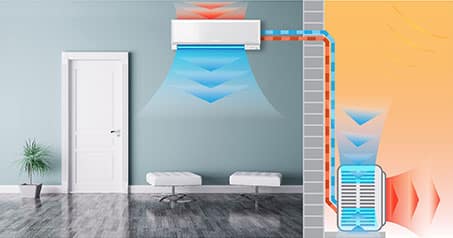 Bypassing refrigerant to the compressor increases refrigerant flow. It provides the system with more consistent and reliable heating, even at very low temperatures. In contrast to conventional heat pumps, Mitsubishi's hyper heat pump systems can supply their full capacity down to -5 degrees Fahrenheit.