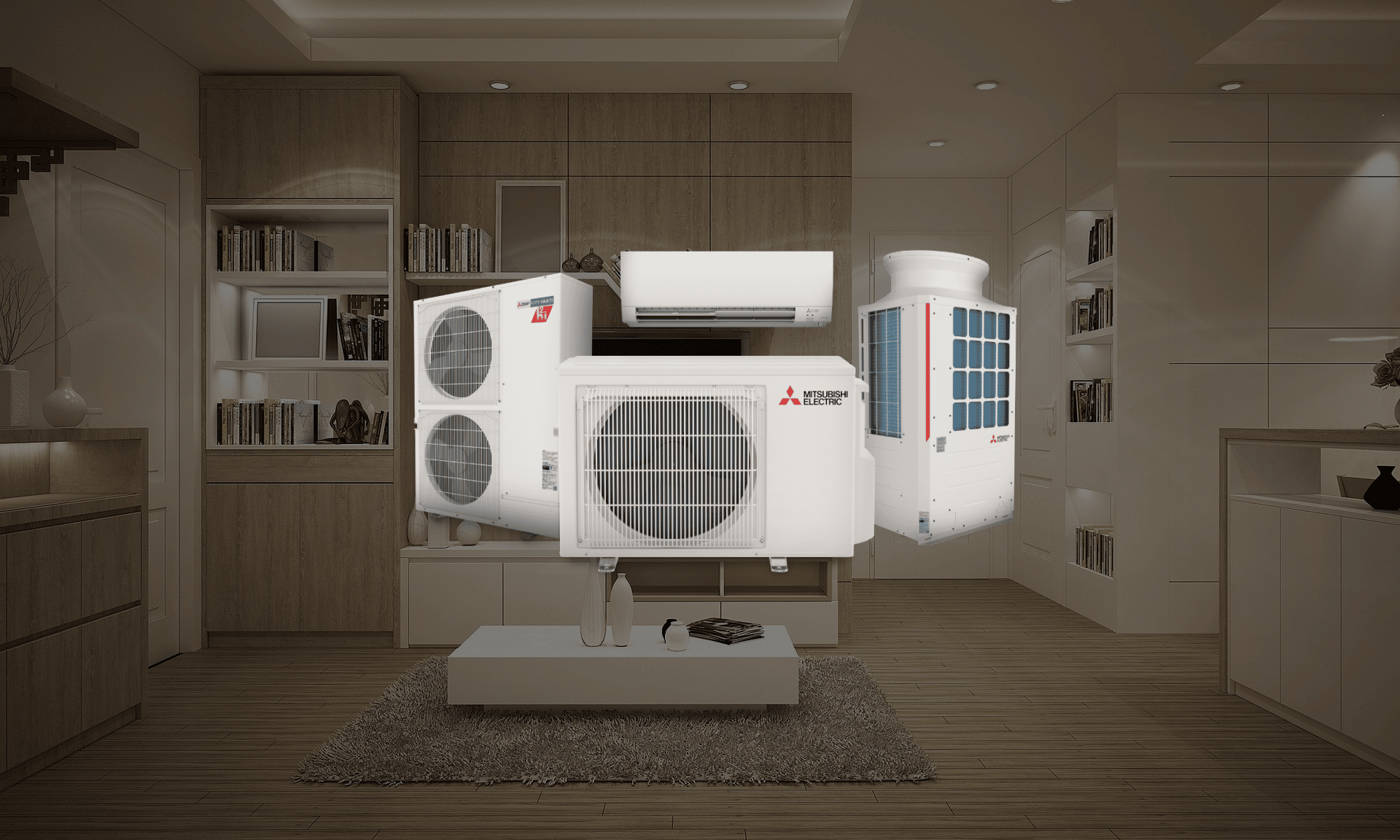 MITSUBISHI ELECTRIC – HYPER HEAT PUMPS
For more than 30 years, the Mitsubishi Electric US advanced climate control systems have helped enhance customers' homes and lives. Our systems provide personalized comfort while conserving energy and promoting environmental sustainability. We are proud to be among the top manufacturers of cooling and heating systems in the world, and our goal is to be the number one provider of comfort without compromise. Call Gerald: 518-812-1958 - Info@HyperHeatPump.com
Contact Us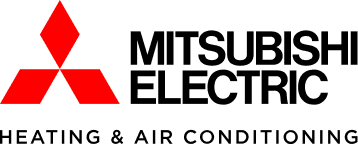 Hyper Heat is a new home heating system designed by Mitsubishi. Hyper Heat is a heat pump system, but it adds an exclusive Inverter technology that allows it to maintain its efficiency when temperatures drop, all the way down to -13 degrees Fahrenheit.
Is Mitsubishi hyper heat worth it?
It's more efficient (SEER Rating) while heating down to -13° F, and it's also energy star rated. If you're in a climate where extreme low temperatures are common, Mitsubishi's FH hyper-heat technology is probably a good fit for you.
Mitsubishi Electric has introduced Hyper-Heating INVERTER® (H2i) technology, a significant advance in heat pumps. H2i uses an enhanced compressor system to deliver heat even when outdoor temperatures are as low as -13° F. Hot-Start technology provides warm air instantly.
PERFECT COMFORT TO MINUS 13 DEGREES!
Enter Mitsubishi's new Hyper Heat system. Hyper Heat uses something they call Inverter technology by using a special phase-changing liquid, they can still withdraw heat from the surrounding environment until temperatures dip below -10. The best way to think of this is to compare it to an ice cream scoop with a heat exchange liquid built in.
The scoop can remain warm enough to easily go through rock-hard ice cream, due to the phase-changing liquid in the handle – a kind of "anti-freeze". The same principle allows Mitsubishi's hyper heat system to still extract heat out of the air and warm your home, even when temperatures drop well below the range where most heat pumps simply give up.
Hyper Heat kicks in when the compressor motor is signaled that a burst of heat is required. The motor revs up to max speed and the systems funnels the additional heat thrown off the compressor magnets back to your blower, super charging your heat output and quickly responding to the dropping temperature outside.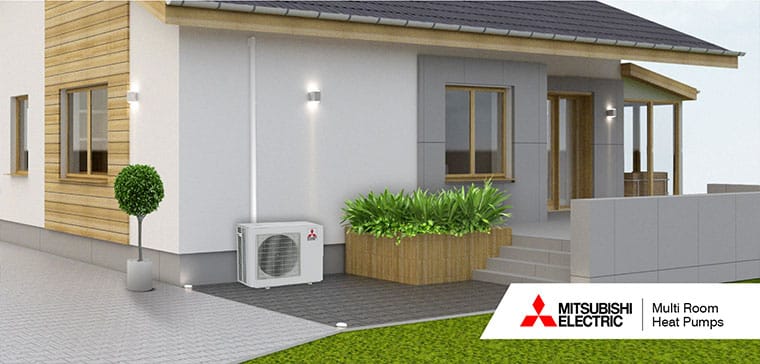 Cooling and heating for year-round comfort, single room/zone. Select from 9K – 36K Btu's system capacities. Wall mounted Mitsubishi ductless indoor units.
EXTREME COLD IS NO MATCH FOR H2i
Our heat pumps are the only ones that feature Hyper-Heating INVERTER® (H2i) technology, a significant advancement in heat pump technology. Our heat pumps can keep you comfortable inside, even when it's as cold as -13° F outside.
Heat pumps have always been efficient, but until now they couldn't provide the heating performance needed in cold climates. With Mitsubishi Electric Hyper-Heating INVERTER® (H2i) technology, our heat pumps can now provide exceptional heating performance and efficiency, even when it's as cold as -13° F outside.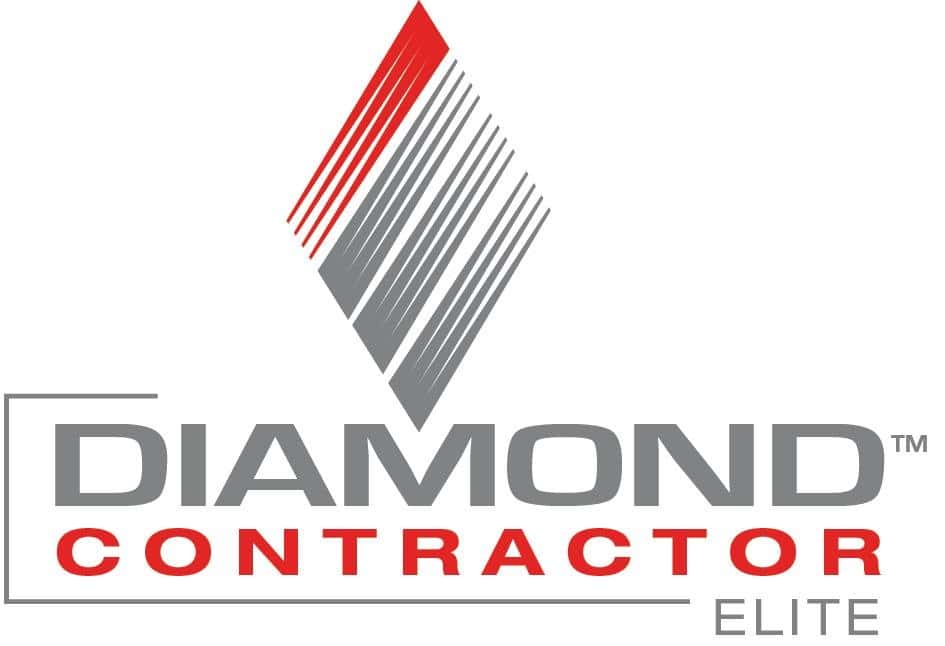 What Is Hyper-Heat and How Does It Work?
Winters can be extra harsh, with freezing cold temperatures and mountains of snow, which makes now the perfect time to prepare for the long winter season.Unfortunately, unpleasant surprises and unexpected expenses do happen when our home is not winter-ready. Count on our HVAC Lancaster PA home-heating experts to guide you with upgrading or replacing your current system, as our comfort advisors provide you with the energy efficient options that fit your needs.
So, how does lovely warmth, even at -13° Fahrenheit, sound to you?
This winter season, enjoy your home with your family and feel comfortable and safe and cozy – with a Hyper-Heating heat pump!
The Hyper-Heat system effectively and efficiently heats homes with outside temperatures as low as 20 degrees Fahrenheit!
We want to introduce you to the Mitsubishi Hyper-Heating INVERTER™ heat pump, – a high-efficiency, hyper heating ductless system that provides year-round comfort solution for your home
Thanks to hot-start technology, these units provide warmth from the start, reducing drafts.
Many of you know that having a propane tank and constantly filling it during the cold winter can be inconvenient and costly. With Mitsubishi's Hyper-Heating system, you don't have to depend on fossil fuels so much, or at all, since ductless solution is an affordable alternative to oil.
If your house does not have ducts, worry not – a "ductless" version of heat pump is available. Also, no need to stress over the costs of this type of heating, as expenses are kept under control due to the fact there is no need for heating oil or other fuel sources.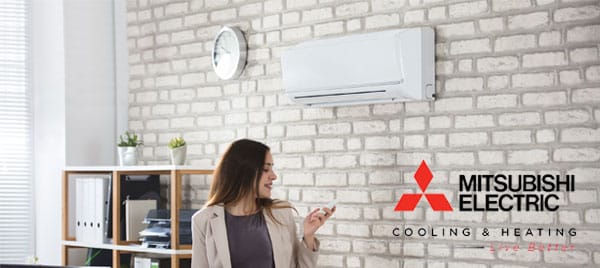 Mitsubishi ductless heating and cooling systems give you the most advanced technology, allowing you to enjoy more precise comfort in one or multiple rooms – while saving on energy bills and contributing to a greener planet.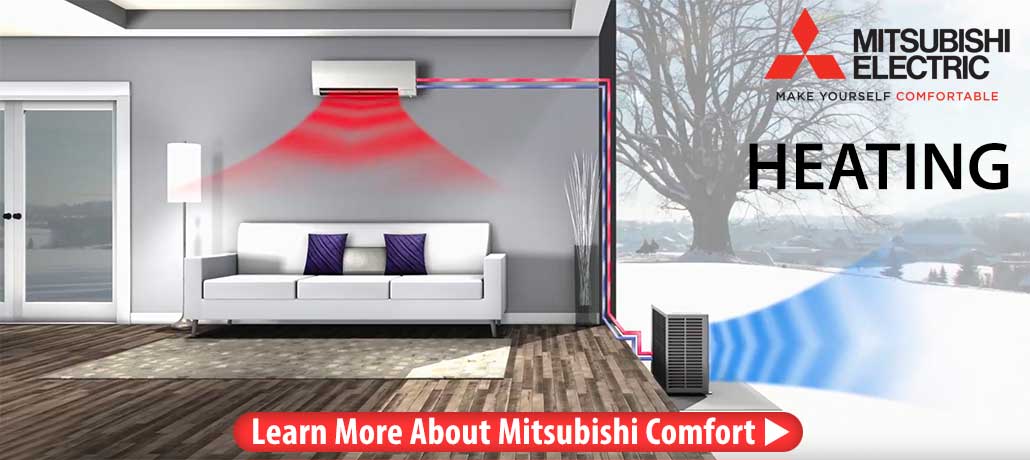 Ductless heating and cooling systems are reversible, two-way heat pumps that simply take heat energy from one place and move it to another by compressing and expanding refrigerant.
Even if your home is old and historic, and you wish to preserve the look and feel, since Hyper-Heat is ductless, it doesn't require the bulky ductwork of traditional systems.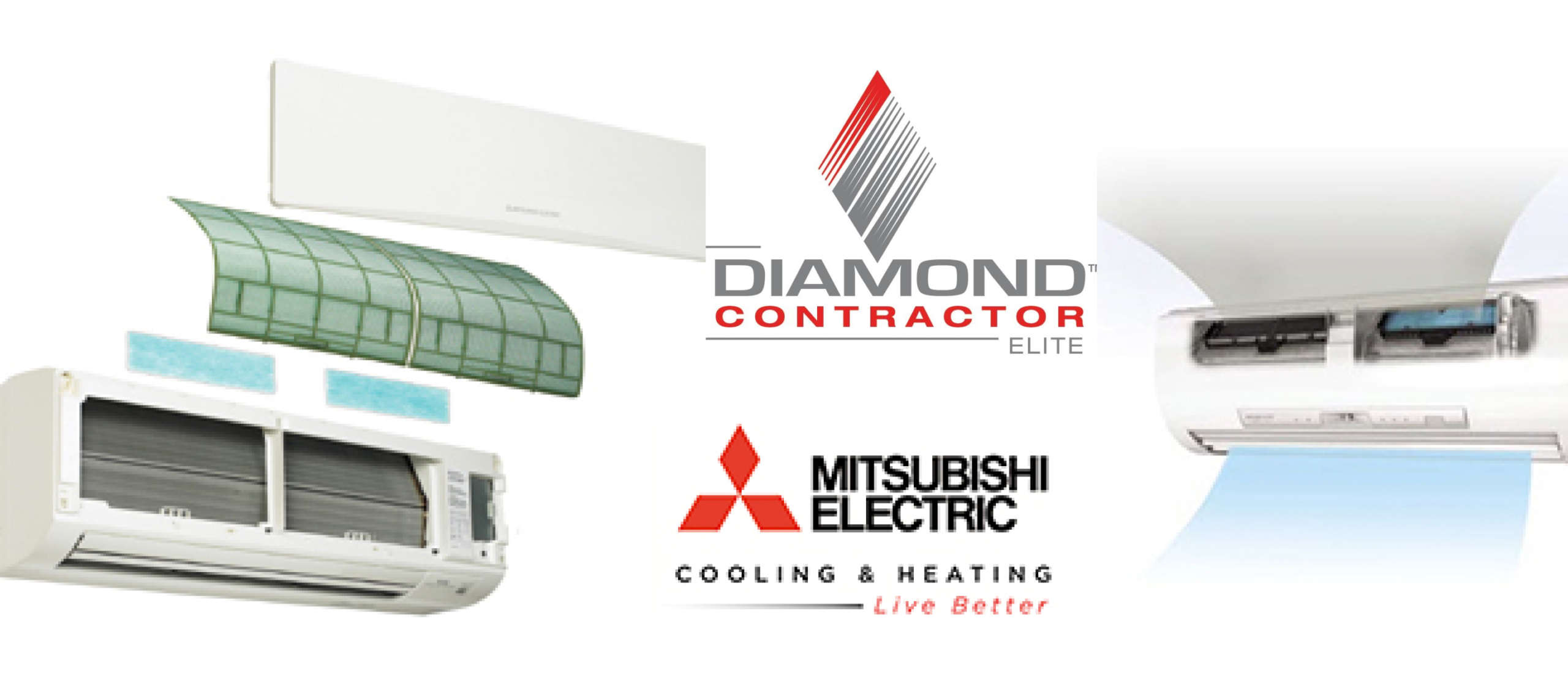 Hyper heat systems are energy efficient and environmentally friendly – they use green technologies and are much more efficient, so you don't have to sacrifice comfort over concerns about high-energy costs.
Another great advantage of a hyper-heating ductless system is that you can heat only the rooms you want, saving you even more energy money. Each room operates independently with its own wireless or wired remote control, so everyone in your home can choose the temperature that makes them most comfortable.
Ductless with Hyper-Heat is also a good addition to your existing heating system because sometimes you just need to heat an additional living space.
And, since ductless both heats and cools, this system is a true, year-round comfort solution for your home.
Ductless Heating & Cooling Systems
Regardless of how cold or hot it gets, Mitsubishi ductless mini splits can give you total control of your family's comfort in a problem room, section of the house, or your whole home. What's more, you can be free of the constantly noisy, inefficient box window air conditioners, and enjoy the new technology units that heat and cool, are more energy-efficient, and do not pose a home security risk!
When ductless cooling and heating units first became popular, they had one very serious limitation – they were not recommended for homeowners in extremely cold climates. Many manufacturers would recommend that homeowners who live in northern regions adopt a supplemental heating source for extremely cold days, which cancelled out the energy efficiency of the unit. Many ductless systems were actually designed to shut down at -10º F in order to protect the technology from failure. This left homeowners using expensive heat pumps, space heaters and even dangerous propane tanks to heat their homes.
Technology has finally evolved and homeowners can now achieve exceptional, year-round comfort with a single split-ductless unit. These new units are able to heat at maximum efficiency no matter how cold the climate – even to -13º F.
Traditional split systems lose heat energy in the outdoor coil. Thanks to recent advances, Hyper-Heating INVERTER technology (H2i®) is able to collect that energy, helping the system to continue to operate at capacity in extreme temperatures.
In cold climates, heat pumps typically experience a decrease in pressure, refrigerant flow rate and operational capacity. INVERTER technology actually allows for higher heating speeds at a lower temperature, without putting extra strain on the unit or potentially causing long-term damage to the compressor.
Some of the differences between traditional technology and H2i technology that make it attainable for those who live in cold climates include: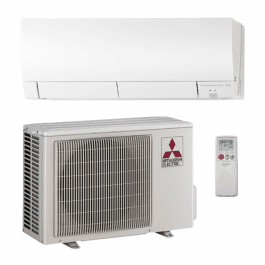 Hyper-Heating INVERTER
Bringing year-round comfort solutions to extreme climates.
Introducing Hyper-Heating INVERTER (H2i™) technology*, exclusively from Mitsubishi Electric and available in select Mr. Slim® Split-ductless and CITY MULTI® VRFZ models. The cooling and heating success of our INVERTER heat pump systems is well documented. But we didn't stop there. We decided to redefine the heat pump even more.
Imagine sitting toasty warm inside while it's -13˚ F outside or realizing full heating capacity at 5˚ F outdoor ambient. Now open your eyes and see the H2i outdoor units. H2i delivers heat, and lots of it.
With our INVERTER-driven heat pump systems you effectively use energy while maintaining the ideal comfort level. Now, with the integration of the innovative H2i technology, you experience the added benefit of year-round comfort with a single system, even on the coldest days of the year. This Mitsubishi exclusive technology comes appropriately at a time when fuel costs and energy usage are at an all time high.
• Exceptional heating performance, even at 5˚ F outdoor
• Tremendous heating operation down to -13˚ F outdoor
• Extended comfort performance, longer interval
between defrost time provides more than four
hours of heating in one continuous cycle
On start up a special circuit assures that normally dormant refrigerant quickly enters the air-conditioning cycle. This process rapidly increases the mass flow rate in the system, which quickly provides comfortable discharge temperatures from the indoor units.
Even at -13˚ F outdoor temperature the H2i system can provide 100˚ F discharge air temperature from the indoor unit. And at 5˚ F outdoor temperature and above, the discharge temperature reaches an impressive 110˚ F with a 40˚ F temperature rise.
What does that mean? A comfortable climate in all of the zones in a home or office, whether heating or cooling, no matter the season.
Unlike typical fixed-speed or staged heat pumps, the INVERTER-driven compressor in the H2i outdoor unit adjusts its speed to precisely match the load requirements within each zone. The use of the INVERTER-driven compresssor allows for constant comfort all year long, year after year.
INVERTER Technology
Precise rotation speed control provides comfortable, consistent room temperature.
High rotation speed provides fast cooling and heating.
Low rotation speed keeps starting current low, which means less energy consumed.
Conventional Technology
Has uncomfortable temperature fluctuation.
Requires a long time to reach desired temperature.
Need heavy energy usage every time compressor turns on.
Setting a New Standard in Performance
The Hyper-Heating INVERTER Y-Series combines the ultimate in application flexibility and powerful cooling and heating capabilities to deliver precise comfort control to multiple zones of a commercial or institutional building. The outdoor units deliver full-sized performance from a more compact, space-saving design. A compact design equates to easier transportation and installation.
The H2i Y-Series is available in four capacities, six, eight, 12, and 16 tons, and each provides distributed capacity to multiple indoor units. The six-ton model (P72) connects to up to 13 indoor units and the eight-ton (P96) connects to up to 16. When you simply manifold two outdoor units you expand not only the capacity but the connectable indoor units.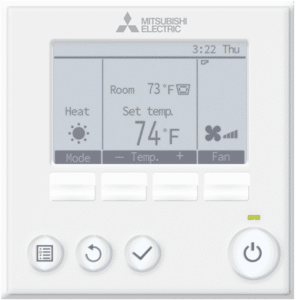 Manage your home´s heating and cooling with easy-to-use wall-mounted controllers that manage one to 16 indoor unis.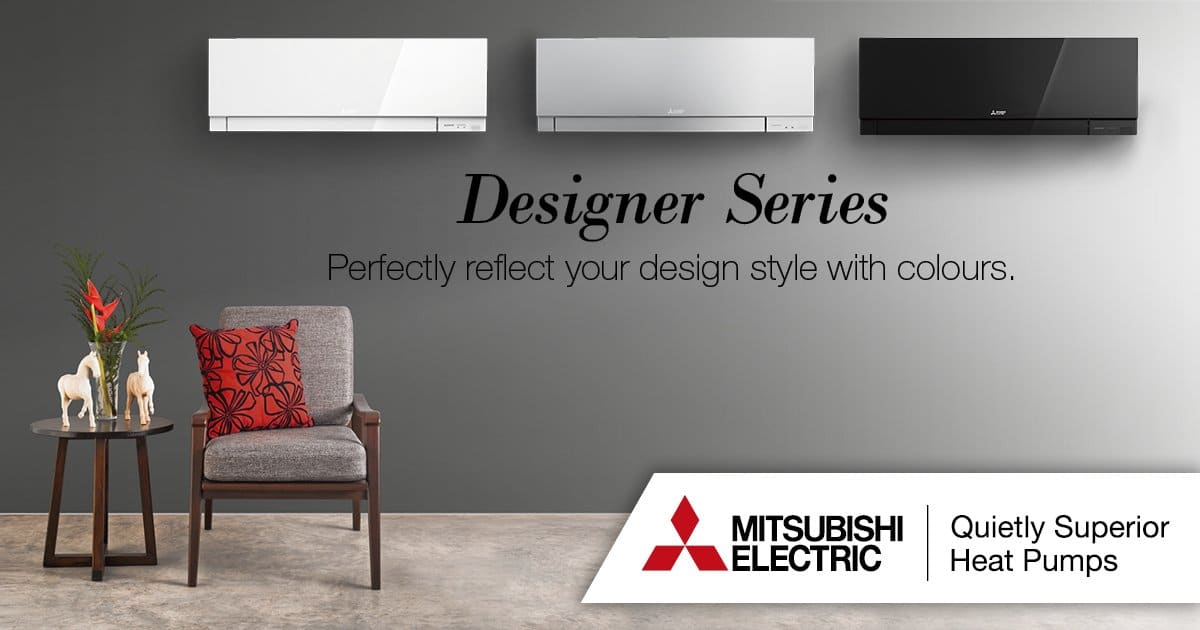 Mini-split systems are great for Mobile homes heated by ductless systems—hot water, electric heat or radiant panels. They're also a good alternative to heat and cool homes without capacity for ductwork, additions, garages and more.
CITY MULTI VRFZ systems offer many sleek styles of ductless and ducted indoor units for various applications. They are easy to install and offer flexible zoning options. Choose from wall-mounted; ceiling-recessed (1- or 4-way airflow), suspended and concealed, and floor-standing models. And all are quiet, easy to maintain, and compatible with the H2i Y-Series outdoor units. Units range in capacity from 6,000 up to 96,000 Btu/h as listed below:

CITY MULTI Controls Network
The CMCN manages up to 2,000 indoor units from a single networked PC in terms of operation, monitoring, scheduling (daily, weekly and yearly), error code email, personal web browser, tenant billing and maintenance diagnostic information. The CMCN places individual comfort of personalized comfort in the hands of the tenant and the building manager. Several styles of remote, system and central controllers are available to provide a wide range of control.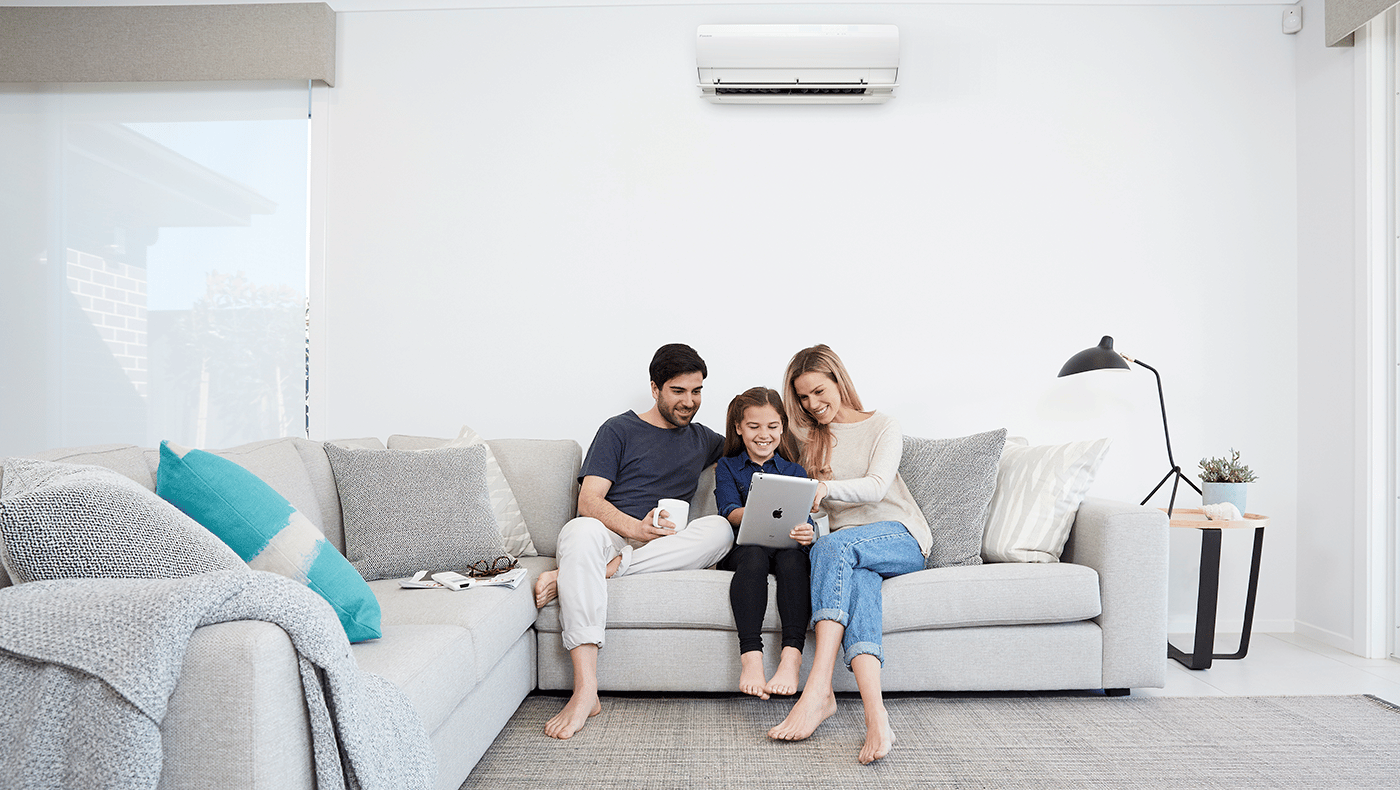 Hyper Heat Feature Review
Before we get into the advancement Mitsubishi made with their hyper heat systems, let's go over the basics of heat pumps.
A heat pump works by using the heat/cold from one place and transferring it to another place. In ductless systems, this transfer happens because the compressor (outdoor unit) pumps refrigerant between the indoor unit and itself.
Refrigerant either compresses or evaporates on coils in both units to heat or cool – whichever is called for. When the heat pump needs to absorb heat from the air, refrigerant is evaporated at low pressure on a heat exchanger coil. Taking the heat out of the air cools the air around the coil.
To transfer the absorbed heat from one coil to the other, it compresses the refrigerant. The compressed refrigerant condenses at high pressure and releases the absorbed heat in the opposite coil – heating the air that passes over it.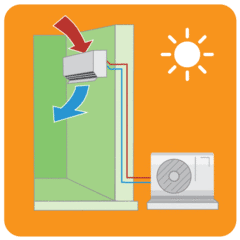 Even when it's cold outside, the air and ground always contain some heat. Air at 0° F contains 85 percent of the heat of air at 70° F.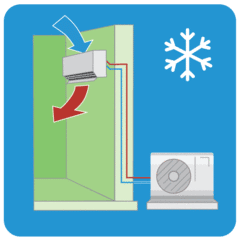 Other Hyper-Heat Features
Have you ever gotten in your car in the wintertime without letting it heat up? Then you know the benefits of instant hot-start.
Without letting the system run idle to heat up, Mitsubishi designed their hyper heat systems to deliver instant hot air to your room. Once you turn your ductless unit on, it starts heating your room immediately.
All ductless systems work on inverter technology. And like all heat pumps that use inverters, they deliver the precise amount of heat/cool air you need for your particular need.
But ductless systems take it one step further because they're individually "zoned." Zoning a system means it's responsible for heat/cooling a specific area. Once that area is heated/cooled to the proper temperature, that zone deactivates – saving you energy.
The reason ductless systems are unmatched in their zoning capabilities is each indoor unit scans the environment individually. Once it knows how much heat/cold it needs to meet that zones temperature requirements, the outdoor compressor (using inverter technology) delivers the exact heat/cold that zone needs.
With ductless systems, you're not turning on the furnace to heat or heat pump to cool your entire house. You're mini-split is reading your room individually, delivering exactly the right amount of heat, and using the exact amount of energy you need.
Comparing Hyper-Heat to the Competition
What makes Hyper-Heating H2I® so much better than anything else?
While most traditional heat pumps aren't designed to handle extreme conditions & climates, Mitsubishi's Hyper-Heating H2i® can. But, Mitsubishi isn't the only manufacturer to make the leap into extreme cold.
Mitsubishi's hyper-heating H2i® compressor motor signals that a burst of heat is needed when the temperature gets below 40°F. Depending on the temperature, the motor revs up accordingly and the system absorbs the additional heat thrown off the compressor magnets. After the extra heat is absorbed, it's funneled to the back of the blower.
That process supercharges your heat output. That's how Mitsubishi's hyper-heating H2i® inverter compressor matches the heat that's needed and quickly responds to the dropping temperature outside.
Also with Mitsubishi's "flash injection" bypass circuit, you avoid the problem of decreasing amounts of refrigerant at sub-zero temperatures. Flash injection helps increase the amount of the refrigerant circulating between the indoor and outdoor units.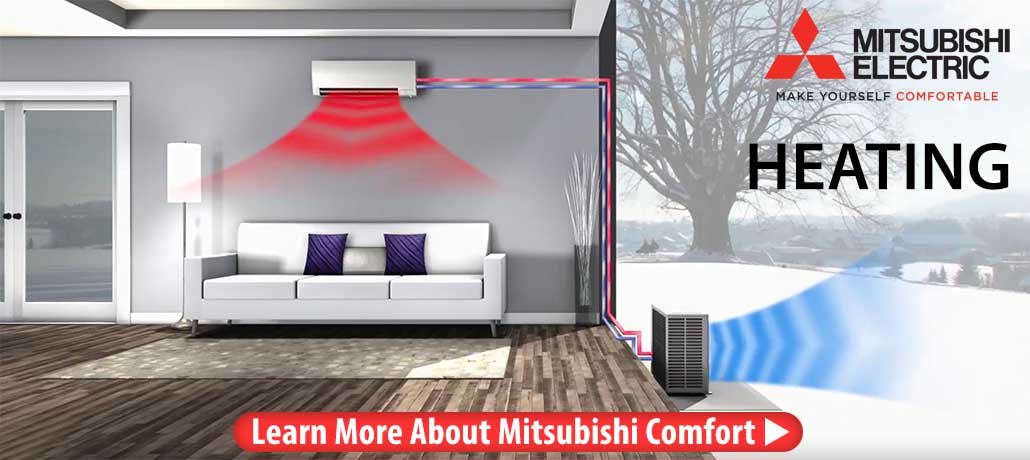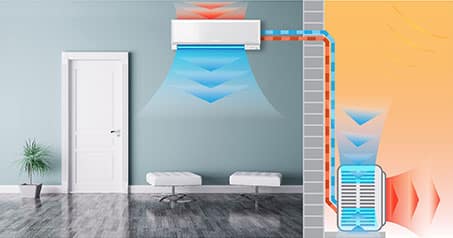 Refrigerant flow is increased when refrigerant is bypassed to the compressor. It gives the system more stable and continuous heating – even down at extreme temperatures. That's why Mitsubishi's hyper heat systems can provide 100% of their rated capacity all the way down to 23° F when other heat pumps can't.