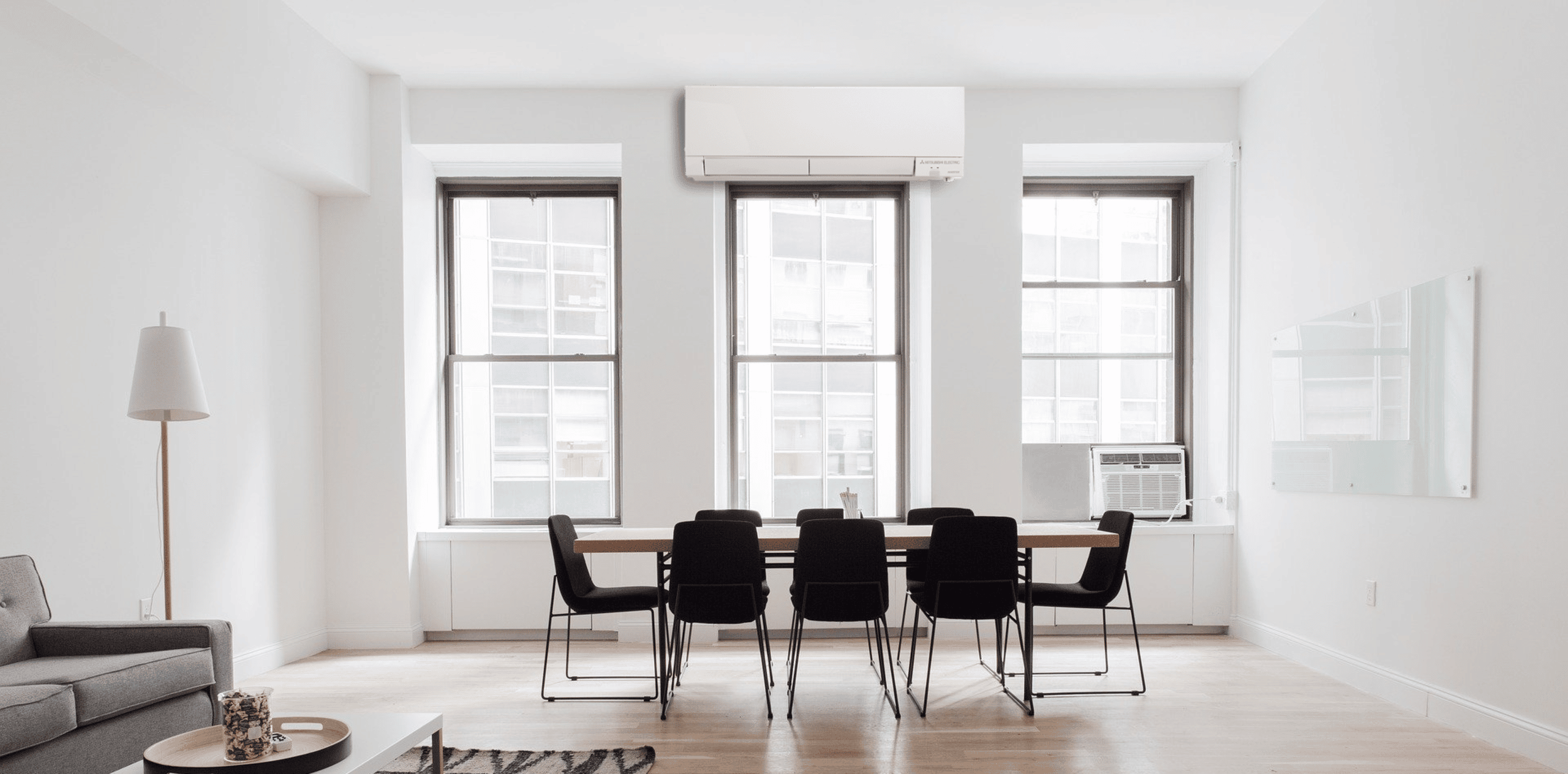 Ductless Mini-Splits/Air Source Heat Pumps/Mitsubishi Hyper Heat
Functions as an All-In-One System for Heating & Cooling Ductless Mini-Split HVAC
Contact Us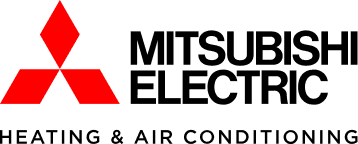 What Will Mitsubishi Ductless/Mini-Splits Add For Me?
We believe that Ductless HVAC is the modern savior we are all looking for.  Besides the reduced energy cost that comes with owning a ductless mini split you can:
Heat or cool that room or addition that is never the right temperature
Fire that bulky window unit that is all noise and inefficiency that blocks your view outside
Add modern comforts to your older or historic home without changing it's outward appearance
Introducing HYPER HEATING – Ask us about it!
Save up to 75% on Heating & Cooling
How Does Zoned Control Benefit My Home?
All homes are configured differently.  With wall placement, multiple levels and a multitude of angles, it is often impossible to heat and cool every room in a home the same using only one thermostat.  With multiple zones, each area gets its own control.  You can keep some rooms or whole areas cooler or warmer than others and help to save on your energy costs.  With amazing savings, a partnership with Superior Co-Op and Mitsubishi Electric ductless mini split can help you heat or cool only the rooms that you want to and only when you want to!  No more wasting energy heating or cooling the whole house just to be comfortable in just one room.
Mitsubishi ductless systems are ENERGY STAR qualified!
FINANCING AVAILABLE:
0% INTEREST 18 MONTHS W/ EQUAL MONTHLY PAYMENTS
With payments as low as $62.50 per month
PROUDLY SERVING ESSEX, WARREN, HAMILTON, WASHINGTON COUNTIES & THE ENTIRE SURROUNDING AREAS!
Suggested Product
What is Ductless / Mini Split Heating and Cooling?
What are Ductless Cooling and Heating Systems? As suggested by the name, ductless cooling and heating systems work without any ductwork being involved. These systems consist of two separate units: an outdoor compressor and an indoor evaporator. The most common type of ductless systems is wall-mounted mini-splits.
Ductless mini-split systems are energy efficient air conditioning and heating options, environmentally friendly and completely customizable. They offer homeowners the ability to heat or cool specific zones of their home to the exact temperature they desire, providing consistent and exceptional year-round comfort.
5 REASONS TO CHOOSE DUCTLESS MINI-SPLIT HEATING AND COOLING SYSTEMS
Most people have heard of mini-split heat pumps and ductless mini-split heating and cooling systems. You may have seen the small, indoor devices installed high on walls in homes, restaurants or office buildings. But what do you really know about mini-split systems?
5. Ductless Air Conditioning Lowers Your Carbon Footprint
The small size of a ductless mini-split heat pump and its zoning capabilities allows for greater energy efficiency. Mini-split heating and air conditioning systems follow ENERGY STAR guidelines, which means they are far more energy efficient than the minimum standards set forth by the U.S. federal government. Improved efficiency saves money, of course, but it also helps reduce your total carbon output.
Additionally, ductless mini-split systems take advantage of advances in chemistry to reduce effects on the environment. Ductless systems use a refrigerant called R410A, which is known for its zero- ozone depletion potential. This means the system will have less impact on the environment throughout its lifecycle.
Ductless mini-split systems are energy efficient air conditioning and heating options, environmentally friendly and completely customizable. They offer homeowners the ability to cool and heat specific zones of their home to the exact temperature they desire, providing consistent and exceptional year-round comfort.
Mini Splits
HOW A DUCTLESS HEAT PUMP CAN SAVE YOU MONEY AND ENERGY?
Although not a new technology, ductless heat pumps are rapidly gaining popularity in the U.S., and why not? Ductless heating and cooling systems can save 30-40 percent off the energy costs of a forced air system. They are the go-to choice for newly constructed houses and additions, as well as those houses with no existing ductwork and which rely upon radiator or electric baseboard heating. If this describes your home, here are some ways the ductless heat pump system can drive your energy costs down. THE SAME UNIT DELIVERS BOTH HEATING AND COOLING If you are in an older house with an old boiler delivering radiated heat, and you want to add energy efficient air conditioning, switching to a ductless heat pump system can kill two birds with one stone, bringing both cooling and heating in one system. An air conditioner works by transferring the heat from inside to outside. A heat pump is an energy-saving air conditioner that simply reverses the flow of refrigerant. Combining the functions means one less system to worry about, joining the best of both worlds to create one of the best heating and cooling systems on the market today. And newer hyper-heating systems provide reliable heat even when it's below freezing outside. DUCTLESS HEAT PUMPS ARE EASY TO INSTALL AND SIMPLE TO USE A basic ductless cooling and heating system consists of two units, one indoors and one outdoors, which is why the system is often called a split-ductless system or mini split system. Together, they take up considerably less space than equivalent traditional home comfort systems. The refrigerant lines deliver the heating and cooling energy to the space much more efficiently than air ducting can. Forced air systems lose as much as 30 percent of its energy pushing dense, cold air up big, wide ducts through an entire house. Ductless heat pump systems in turn rely on thin refrigerant piping to deliver the heating and cooling energy to compact indoor units delivering air to the space much more easily, allowing you to save on energy. SAVE ON ENERGY WITH ZONE-BASED COOLING AND HEATING Split-ductless systems and mini split systems can use up to eight separate indoor air-handling units for each outdoor unit. In this way, you can have eight separate rooms or zones, each with its own controller. You can save a lot of money and energy by sending less heat into lesser-used areas of your home. For larger homes, you might consider purchasing two ductless multi-room outdoor units in order to boost your indoor cooling and heating to the entire house. The extra costs will be more than compensated for through eventual energy savings, as well as giving you green heating and cooling which will reduce the carbon imprint on the earth. THE "GREENER" THE HOUSE, THE BETTER THE SAVINGS Green heating and cooling helps save on energy, but in order to maximize your savings, you want to secure your building "envelope". You need to make sure you have adequate insulation, and that all window, door and attic air leaks are sealed. It wouldn't make much sense to purchase and install a new heating and cooling system, only to have the energy savings it brings go seeping out of your house. This is especially true in colder climates, where the ductless heat pump needs to work harder to maintain heat in the winter. If you're smart enough to use this modern technology, you need to be smart enough to keep your house as environmentally sound as possible in order to get the most out of it. The best part is you won't have to sacrifice having one of the best heating and cooling systems on the market to have a green heating and cooling system.
HOW DOES AN ENERGY REBATE PROGRAMS WORK?
Energy-Efficient Technologies Can Earn You Energy Rebates Convenience, efficiency and energy savings are reasons enough to invest in new home technologies. But energy efficient technology choices can also earn you extra money through local, state or federal energy rebates. These rebates come in many forms, from property and sales tax exemptions to loans and grants. There are thousands of such programs in the U.S., but they are often not widely promoted or publicized. It pays to do a little research about these programs when you are considering technology upgrades for your home. Here are some examples of what you will find. Residential Renewable Energy Tax Credit – Federal This is a personal tax credit applied for the use of solar-electric systems, solar water heating systems and fuel cells, small wind-energy systems and geothermal heat pumps. A taxpayer may claim a credit of 30 percent of qualified expenditures for a system that serves their residence anywhere in the U.S. Energy Upgrade California This program offers a rebate of up to $2,500 for a basic upgrade package, and up to $4,500 for an advanced upgrade package, covering energy efficient technologies such as central air conditioning, duct/air sealing, furnaces, insulation and more. The program connects homeowners with qualified contractors, and helps them find all available incentives. Energy Conservation Improvements Property Tax Exemption – New York State Covering water heaters, furnaces, central air, programmable thermostats, solar heat, photovoltaics, geothermal heat pumps and more, this program exempts the homeowner from 100 percent of the value added to the residence as a result of the improvements.  You might as well capitalize as much as you can on your decision to go energy efficient.