USING YOUR HEAT PUMP TIMER FUNCTIONS
We know the feeling. It's a cold winter morning, you're cozy and warm in bed and you can't stand the thought of stepping out from underneath the covers
Contact Us
Using your heat pump timer functions
We've been there. But what if there was a way that we could avoid this and make our rooms just as warm and cozy as our beds? Your MHIAA AC is the answer!
Whether you're looking to stay warm this winter or looking to save on your A/C running costs, we've got you covered with some helpful information on the range of timer functions on our units.
SET AND FORGET
The great thing about timers is that once they are set you can forget about turning your AC on and off as your unit will do this automatically.  But the benefits don't stop there…
Each of the timers can be set to accommodate your individual needs. Plan your usage around your schedule. Set the on timer and your unit will work with the Comfort Start-Up function to  turn on slightly earlier than the set time. This will ensure you wake up to a warm and cozy room or arrive home from work and walk in to a warm house.
USE YOUR TIMERS TO STAY WARM THIS WINTER
MHIAA's range of heat pumps including split systems, ducted systems and ceiling concealed systems,  have a number of convenient timer and scheduling functions to ensure your comfort this winter season.
WEEKLY TIMER:
This allows you to set up to 4 timer operations a day (with a maximum of 28 per week). Once set, the unit will turn on and off at the specified times of the day, repeatedly, ensuring you wake up to a warm bedroom or come home to a nice toasty living room.
ON/OFF TIMER:
Set your unit to turn on and off once, at specific times within a 24 hour period. Your unit will then turn on and off at the specified times every day. This can help you stay warm while making breakfast.
By using the timers above you can ensure your heat pump is working for you this winter and ensure everyone's comfort this chilly season.
SET TO SAVE
If you're looking to save on running costs this winter, you can use the below timer and scheduling functions to ensure your unit isn't running when it's not needed.
PEAK-CUT TIMER*:
This function lets you preset the capacity limit of your AC during certain periods of the day. Minimise your energy consumption during peak billing times to reduce the operation costs of your unit.
SLEEP TIMER:
To stop your heat pump from running long after you fall asleep, set a pre-determined amount of time between 30 and 240 minutes that your unit will operate for before switching off.
SO HOW DO I SET THE TIMER?
If you have a split system, you can access all timers through your remote control.  Simply follow the easy steps below.
OPTION 1. WIRELESS REMOTE CONTROL
Switch the unit on.
Locate the timer button that you wish to set.
Use the up and down arrows to set the selected time you wish to set.
Hit the 'set' button for the timers to be set.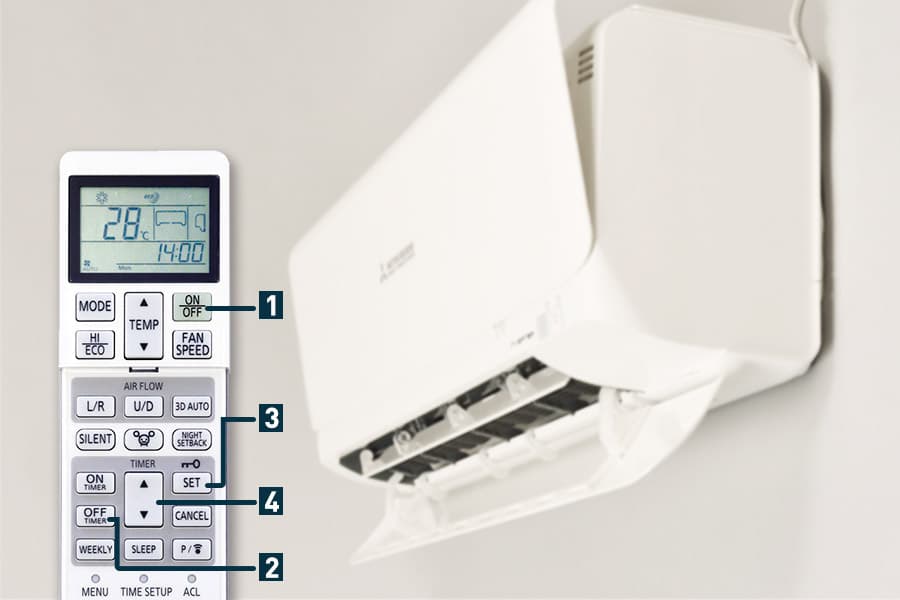 OPTION 2. WIRED REMOTE CONTROL
If your unit has a wired controller the process is just as simple with 5** Easy Steps:

Tap on the Menu button on the top of your LCD screen.
Select Useful Functions -> Timer.
Select the Timer you wish to set.
Use the up and down arrows to set the time.
Once complete, tap the 'confirm' button and your timer is set.